From Triangle Home Ideas Spring 2001 by Christa Gala Photos by webmaster.
Retiring to Paradise
Most folks love the idea of building a home from scratch, but dislike the endless decision-making, meetings with the builder and, of course, the delays that go along with bad weather, unavailable supplies and the like.
Not Lois and Kirk Semke. In fact, not only did they relish the 16-month period it took to build their 5,800-square-foot home in Cary's Preston Bluffs, but they looked forward to the two-hour drive from Wilmington to meet several times each week with builder Ray Saei of PC Custom Builders.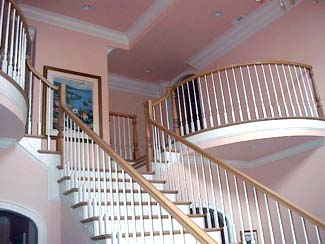 "Every time we met, we spent a lot of time together, and I don't hesitate to do that. I don't build so many houses--maybe just five each year--but when I build, I want to do it right" says Ray, who recently captured the Silver medal in the 2000 Parade of Homes for his home in Morrisville' s Weston Estates.
The Semkes young granddaughters delight in the home's elegantly tiled foyer and gigantic front staircase, flanked at the top on each side with miniature balconies--perfect for talent show performances when all 14 family members get together.
"We went through a lot of Parades of Homes on the West Coast," Lois says. "For about four years, every year we'd go to what was called the "Street of Dreams," where there were nine or ten beautiful homes. That gave us a lot of good ideas."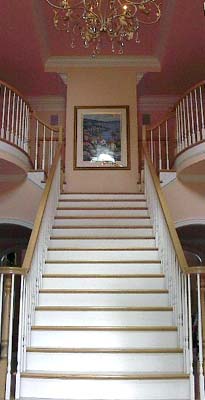 Research also helped the Semkes pick out a floorplan. Kirk Semke explains: "Our starting point was Better Homes and Gardens magazine. This floorplan was the same as a house in Lake Forest, Illinois. We evolved from there."
In fact, Ray made special design changes to the existing floorplan, including adding intricate moldings and trey ceilings throughout the home, taking into consideration every question and concern the Semkes voiced.
"Ray builds a home with all of his heart, as if it's his home he's building instead of someone else's." Lois says. As an example, she points out the master bedroom with its trey ceiling and embedded rope lighting. 'This was Ray's idea; I never even thought of it."
Other changes, like the tropical mural painted in the master bathroom, were the happy result of decorating blunders. "Well, we hated the wallpaper I picked out," Lois explains. "It just wasn't the right wallpaper for this room. We tore it down, and my confidence level was shot, but the decorator suggested a mural. I'm happy we made the wallpaper mistake the first time around." In addition to the mural, the master bath features extensive tile work and medicine cabinets sleekly built into both vanity mirrors.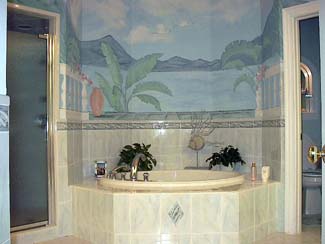 While Lois Semke has a definite idea of what she likes in terms of decor, she said it was helpful to have an interior designer to help with some of the choices that are often overwhelming. "Sandi Kennedy went through the whole building process with us. helping to pick out doorknobs and fixtures." Each room in the Semke home seems to have its own personality and theme, dotted with a mixture of pastels and bright colors.
One of their favorites is the room for the grandchildren. The bedroom is decorated with twin beds and colorful spreads, with a yellow-and white-striped awning hung in lieu of curtains. A white wooden window box attaches to the windowsill, displaying ivy and wildflowers.
Each bedroom has its own full bathroom to accommodate visitors. The Semkes also thought to plan ahead. securing a space where an elevator could be installed if needed as they grow older. That same thinking had a little something to do with the floorplan design as well. "We built the house so the first floor is ours. If need be. we won't have to go upstairs because everything we need is down here." says Lois.
At the advice of their builder, the Semkes put a lot of planning into the kitchen. The result is a huge area with a gigantic island, framed by windows and featuring several upgrades: Corian countertops, an intricate tile backsplash. custom cabinetry and lots of storage.
"The kitchen is the most important part of the house second is the master bedroom and bathroom," Ray explains. "Overall, you spend most of the time with your family in the kitchen or kitchen nook. As a result, a good builder really has to listen, especially to the cook in the family and what it is, exactly, that he or she wants. Sometimes the homeowners get so excited, they forget about the details. I like to discuss every detail by asking as many questions as possible."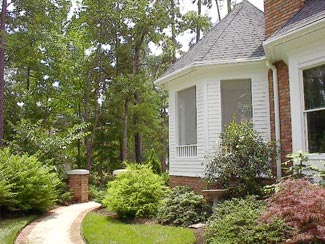 In addition to providing space for food preparation, the giant island resulting from Ray's question-and-answer sessions makes a great dance floor for the grandkids, Kirk Semke points out. "I never would've let my children do something like that, but grandmas are allowed to be soft," Lois responds.
Ray says the last thing he wants to hear client say after he builds their home is: "I wish we would've done this." As a result, in addition to asking lots of questions, he continually offers suggestions to the client and brings handfuls of magazines to browse during planning sessions.
One of the couple's favorite and most used rooms is the octagonal screened porch just off the kitchen. Ray designed special panels to fit between each screen to make the porch feel more like a real room. The special panels prevent the Semkes from being visible from the cars driving past.
"I'm so grateful that Ray thought of this because it's so private. You can sit out here and no one really sees you," Lois says. Ray says homeowners should think as much about the back of their house as they do of the front of the house, since homeowners generally use the back areas more, making the front areas impressive, but less functional, for curb appeal. In fact, Ray designed much of the backyard with meandering paths, planters and a pond, all visible from the porch.
The Semkes are thrilled--both with Ray and their 5-bedroom, 6-bathroom home. This is one builder-client relation­ship that didn't have a chance of going sour. Their professional relationship from two years ago blossomed into a warm friendship, including recently helping Ray celebrate his 50th birthday.